If you there was something you did at breakfast that may be hampering your
fitness goals
, wouldn't you want to fix it? I'm guessing that's a strong yes! So come with me, as we look through the mistakes that you may be making every morning – you might be shocked by a few of them.
It's fair to say,  that in general,  breakfast is considered one of the most important meals of the day….
But, over the years, as diets have evolved and changed, this isn't necessarily the case with everyone. However, the fact remains, that a whole lot of people start their day a breakfast. It provides energy and mental alertness that helps start the day well, and essentially helps to break – fast in a way that eases someone into their day.
That being said, a great deal of dieters focused on fat loss, such as those into intermittent-fasting, would strongly disagree with the notion that a traditional breakfast comes at the start of the day. They're happy to break – fast, but not until way later in the day. So when it comes to breakfast, everyone really does have it their way.  If your way is more traditional, then knowing these common mistakes will have you on the right fitness path from the get go.
Oh, and just as a fyi, I have included some healthy breakfast ideas down below.
1. 
HAVING EXTRA CREAMER AND SUGAR AND IN YOUR COFFEE
Let's face it that caffeine kick sure does get the old engine up and running so to speak. However, if extra sugar and creamer are added, it also swells the number of calories. On top of that, adding extra sugar gives that crash and burn energy that you do not need.
ADDED SUGAR AND CREAMER INCREASES CALORIES AND GIVES THAT CRASH AND BURN ENERGY THAT SETS UP THE DAY IN THE WRONG WAY.
Because of the type of energy it brings, excess sugar and creamer is a pretty good way to spiral off from your goals. Perhaps you're not ready for plain black coffee just yet, but by simply limiting the sugar and cream, or having sugar-free creamers, this will go some way to helping with your energy and calorie intake down the road. Believe me when I say this, while black coffee is an acquired taste, you'll learn to like it.
2. 
FORGETTING THE HYDRATION
Unless you've been sleep drinking, chances are that you woke up dehydrated. It doesn't even matter if you're not really thirsty, trust me, you need that water. The body is made from 60 percent water, and  dehydration impacts vastly on physical and cognitive performance.
(search at amazon "B01FXN3E74" )Brita 10 Cup Everyday BPA Free Water Pitcher with 1 Filter, White,
Start the day with 8-12 ounces of water the moment you wake up. And when I say the moment, I mean, even before you brush your teeth. This is particularly essential when training first thing in the morning, as dehydration by as little as little as 3 percent can create increased fatigue, it also elevate the risks for injuries.
3. FALLING PREY TO THOSE ALL TO ENTICING MARKETING PLOYS
Food manufacturers want to sell products, and they want to sell a lot of their products, ergo, within reason (and regulations) they will go to whatever length needed to get those products sold. So you'll find rows of boxes in the supermarket aisles stating; "as much protein as an egg," or "low-sugar," and "gluten-free". However, take another look and you will find that these may contain extra fat, added sugar to replace gluten, and extra protein from incomplete sources (such as soy) so they can bolster the protein content.
WANT EXTRA PROTEIN? ADD AN EGG OR A COUPLE SLICES OF TURKEY BACON TO YOUR MORNING DISH.
Don't believe the hype. Always take a moment to read the ingredients and nutrition before choosing a particular breakfast choice from the aisle. A perfect way to get that extra protein if you're looking for it is to add slices of bacon or turkey bacon to your morning platter. Want a faster source of protein? Go for a good brand of protein powder and mix it with your oatmeal.
4. GLUGGING DOWN FRUIT JUICE FOR BREAKFAST
There's been a lot of buzz around Juicing, especially in the health and fitness world. Juicing is great for upping your vitamins and vegetable intake, but it's not really a great breakfast on its own. One of the main components that get the digestion working is fiber, something Juices are lacking. So come eleven am, chances are, you'll be flagging and ravenous to boot. If you want to juice, couple it with protein and a high-fiber carbohydrate option.
INCORPORATE JUICE WITH PROTEIN AND A HIGH-FIBER CARBOHYDRATE OPTION FOR YOUR MORNING ROUTINE.
5. ASSUMING THAT BREAKFAST MEANS LIMITED FOODS
Who wrote the rules that said only certain foods can be eaten for breakfast? Why not chicken instead of bacon? In fact, turn everything around and move out of the mindset that only certain foods are for certain times of the day. Not to mention, that variety certainly does help spice up the morning. Lean proteins and whole-grain carbohydrates make a great start to the day. Even leftovers from the night before can be rustled into something tasty. Have a go at one or more of these delicious recipes below!
---
HEALTHY BREAKFAST RECIPE: BREAKFAST CLUB SANDWICH
INGREDIENTS:
WHOLE-GRAIN BREAD 2 SLICES
---
LOW-FAT TURKEY BREAST, SLICED 4 OZ.
---
1% PEPPER JACK CHEESE 1 SLICE
---
---
---
DIRECTIONS
Layer turkey slices atop bread, splitting slices evenly between each piece.

Layer one piece of bread with pepper jack cheese.

Place in toaster oven and cook to desired texture and doneness.

Top with avocado and tomato. Complete sandwich, cut in half, and enjoy!
Serving size: 1 sandwich
Recipe yields: 1 serving
HEALTHY BREAKFAST: GROUND TURKEY AND SWEET POTATO HASH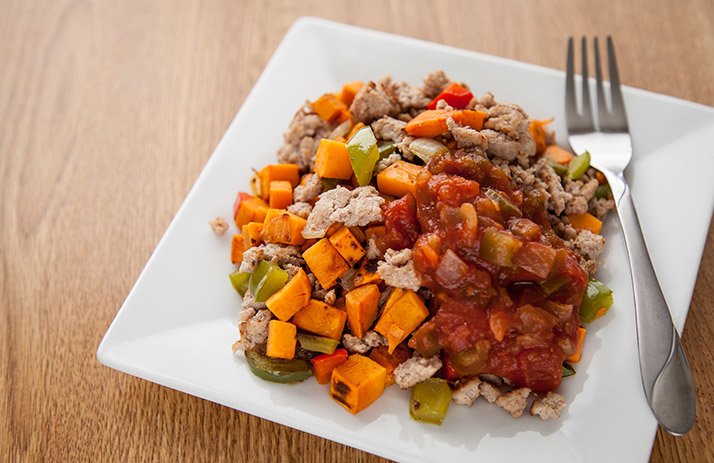 INGREDIENTS

---

---
---
---
---

---
---

---
DIRECTIONS
Poke holes in sweet potato with a fork. Microwave for 5 minutes.

Dice bell pepper, onion, and garlic. Store remainder in fridge for a future meal.

Cook ground turkey in a separate skillet. This dish works if you already have turkey cooked ahead of time too.

Using a nonstick frying pan, begin to sauté vegetables on medium-high heat.

Add salt, garlic powder, and red pepper to taste.

Once sweet potato is finished cooking, allow to cool for 2 minutes before handling.

Upon cooling, dice sweet potato into small cubes. Add to frying pan.

Continue to sauté ingredients until vegetables are tender.

Incorporate ground turkey and mix until thoroughly heated.

Transfer ingredients to plate, top with salsa, and enjoy!
Serving size: 1 breakfast
Recipe yields: 1 serving
IN CONCLUSION
Start the day with the wrong breakfast, and you can seriously impair your performance and fitness goals. However, as you can see, there are easy and tasty ways to correct these! So enjoy and to the best of your health!
REFERENCES
Graham, T.E. & Spriet, L.L. (1995). Metabolic, catecholamine, and exercise performance responses to various doses of caffeine. Journal of Applied Physiology, 78, 867-74.
Casa, D.J., Armstrong, L.E., Hillman, S.K., Montain, S.J., Reiff, R.V., Rich, B.S.E., Roberts, W.O. & Stone, J.A., National Athletic Trainer's Association Position Statement: Fluid Replacement for Athletes. Journal for Athletic Training, 35(2), 212-224.
Davis, J. K., Laurent, C. M., Allen, K. E., Green, J. M., Stolworthy, N. I., Welch, T. R., & Nevett, M. E. (2015). Influence of Dehydration on Intermittent Sprint Performance. Journal of Strength and Conditioning Research, 29(9), 2586-2593.